Sunday Miscellany, May 2012
"Oh, my Hornby and my Barlow long ago!" That was Francis Thompson's recurring refrain in his 1870s poem, At Lord's, as he recalled the cricketing heroes of his youth.
If I were to rewrite this affecting poem today, the subject would be rugby, a sport I love more than cricket, and the refrain might run "Oh, my Brophy and my Bornemann long ago" – Niall Brophy and Wally Bornemann being two wingers whose speed and wizardry enraptured me in my teenage years.
There were other rugby heroes, too, from the same era. My sister swooned over the great Wanderers back-row forward Ronnie Kavanagh, but during those years forwards always struck me as unglamorous, if necessary, bruisers whose main job was to secure the ball, get it to the scrumhalf and then let the backs work wonders with it.
No one ever did this better than the Wanderers and Ireland inside centre, Kevin Flynn, whose acceleration and sidestep were such that the opposition backs were left grasping at a ghost as he vanished between them and raced for the line.
After that there were other heroes of the centre field – Mike Gibson for Ireland, Philippe Sella for France, to name just two – but no one captured my imagination quite in the way that Kevin Flynn did. And as the years, and then the decades, passed I resigned myself to accepting that the cherishing of sporting heroes was inextricably linked to a capacity for wonder that's only possible when one is young and impressionable.
And thus, though in later years I could marvel at the skills of a Keith Crossan or a Rory Underwood or a David Campese, I was too old to feel the kind of thrill that a Kevin Flynn – or, indeed, a Tony O'Reilly or a Dave Hewitt – could summon up.
And then, at the beginning of this millennium, along came Brian O'Driscoll with his heightened sensitivity to the promises of rugby, and though I was far too old for sporting heroes it was as if I were a teenager all over again.
"How did he do that?" I asked myself in astonishment as three blurs of speed took him under the posts against France in that famous game in 2000 that announced to the world his extraordinary talent, though not what he would subsequently achieve with it.
I was reliably informed that the secret of his dazzling runs had all to do with upper body strength and a low centre of gravity, but that didn't explain the seemingly effortless ease of his deceptive dummies or the way in which he could outwit the sternest of defences by somehow conjuring up an acre of running space that hadn't been there a millisecond earlier.
And as the hard knocks began to take their inevitable physical toll on someone who's always been as ferocious in defence as in attack, no amount of theorising could explain the other attributes he brought to his game – most notably an inspirational leadership, conducted through example, and a bravery that, in its scant regard for personal well-being, has sometimes bordered on the foolhardy.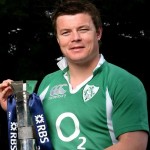 I'm thinking especially of those match-saving, close-range, body-bruising tries from ruck or maul that only a second-row forward should reasonably be expected to score – as well as those speed-of-light passes, with the opposition bearing down on him, that suddenly liberate a colleague less targeted than he has always been.
I've never met Brian O'Driscoll and I know little about the man, though I think I detect an innate shyness there, along with a basic reserve – indeed, a justifiable wariness of media attention that can destroy as well as exalt the objects of its relentless glare. But in public he has an unnerring sense of how to conduct himself.
Indeed, in an era that's notable for the routine way in which sportsmen and sportswomen insist on behaving badly, O'Driscoll is a remarkable role model for a game that still manages (just about) to hold on to some of the values and decencies that sporting endeavour is meant to represent but seldom does anymore.
Fame may be the spur, but, along with huge financial remuneration, it's also the corrupter, and it's now uncommon to encounter great athletes who embody the virtues of their vocation rather than become tarnished by its temptations.
O'Driscoll seems to me to be one such person, and this was borne out when it came to his wedding – I was cheered to learn that he and his wife-to-be had refused to say OK! to the blandishments of Hello, but they knew they couldn't avoid the intense media hype surrounding the event. However, the matter was resolved (at least from what I read) with a grace that both satisfied the voracious publicity machine and ensured the privacy of the actual moccasion. It was a long way from Posh and Becks.
O'Driscoll is now in the twilight of his playing career, but he'll undoubtedly distinguish himself elsewhere and it's lovers of rugby who will really lament the gathering dark as a generation of great players prepare to hang up their collective boots.
This has been a golden time for Irish rugby and for Leinster rugby, too, though it wouldn't have glittered quite so brightly if it hadn't been graced by such a remarkable player. I hope he'll astonish us yet again in the Heineken final. But whatever the outcome of that encounter, thirty years from now some poet of the oval game will be writing, not of Hornby or Barlow,  but of the O'Driscoll of long ago. (Image from www.irishrugby.ie)